CEREC technology allows same day treatment for complex restorations, which in the past took numerous visits over multiple weeks.
CEREC Porcelain Restorations
Our CEREC porcelain restorations  (crowns, veneers, inlays and onlays) can generally be designed, milled and fitted in just a single appointment. Imagine — a brand new smile in one day. CEREC means no more moulds or weird tasting putty being placed in your mouth. CEREC means  no more having to wait at least 2 weeks or more for your restorations to arrive. CEREC means in the case of dental veneers and crowns not having to have a weak temporary cap or veneer that impedes your functionality (and is prone to falling off) while you wait for your restoration to be built in a lab.
What is CEREC?
CEREC is a state of the art dental technology device (from Germany) that we have in our office that allows our patients to go from diagnosis to walking out of our office with their new crown, veneer, inlay or onlay in place, all in the same day. It only usually takes 45 -60 minutes from start to completion.
CEREC allows Dr William to use CAD/CAM or "Computer Aided Design" and "Computer Aided Milling" technology to create your CEREC restoration in just one visit. CEREC cutting-edge digital mapping technology charts the inside of your mouth and takes millions of computer laser images of your tooth, so it's very detailed and extremely accurate. Your new CEREC tooth is milled out of a solid ceramic block in our office and bonded to your tooth, on the same day. You get to see the entire process as it unfolds.
CEREC systems cost in the order of a quarter of a million dollars and because of this very few dental practices have invested in this state of the art technology. Dr William has been a CEREC provider for over 10 years and is well experienced in the creation of superior CEREC CAD CAM restorations.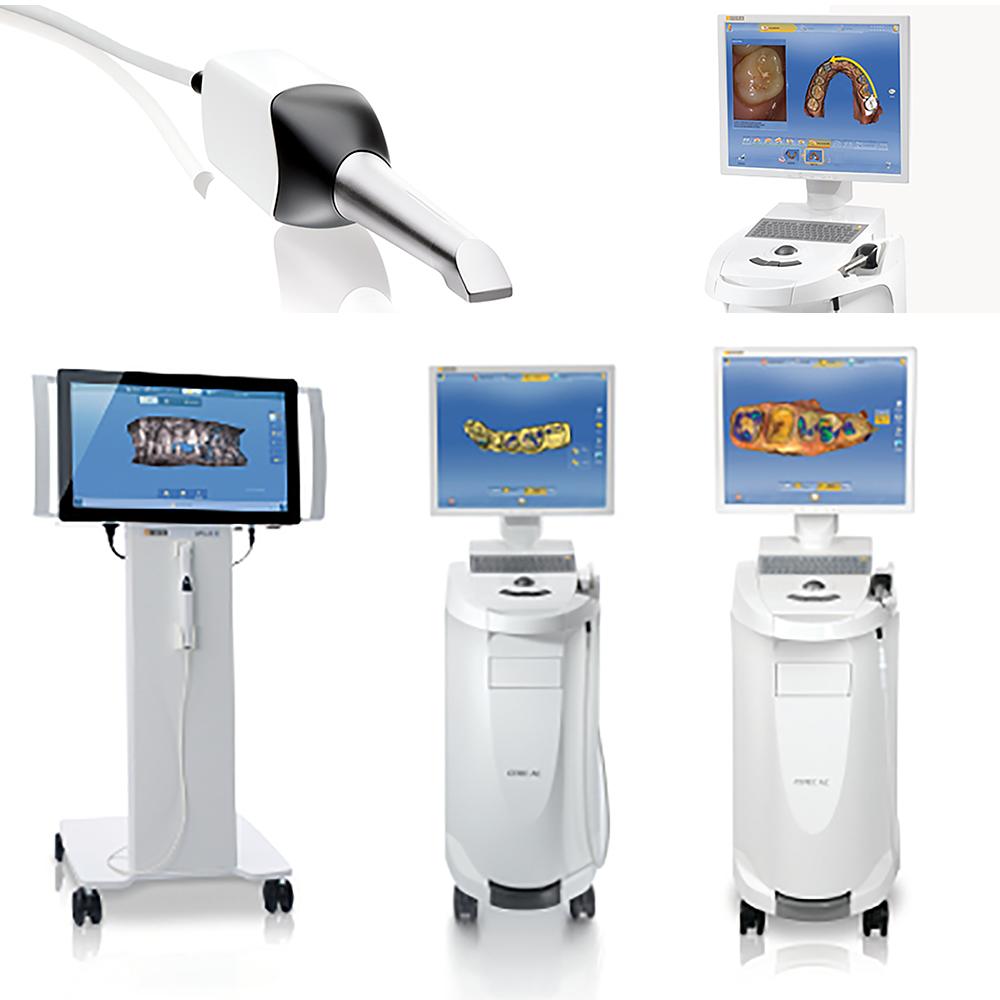 CEREC CAD CAM computer interface (above) displaying a proposed CEREC restoration, based on a laser photo of missing tooth structure requiring restoration. CEREC Porcelain blocks below (before and after milling of restoration) as per CEREC CAD CAM design (on the computer interface above).
The Process
Dr William, your CEREC dentist will prepare your tooth.
A small laser camera is used to take millions of digital images (to create a digital 3D model of your tooth). The images appear on our CEREC CAD CAM computer interface.
Based on the 3D model, the CEREC software creates a virtual model of your new tooth. Dr William uses this virtual model to construct the tooth restoration on the screen and passes the finished construction via a wire less interface to an in-office milling machine.
A high-grade ceramic, plaque-resistant block of ceramic material is then milled, (manufactured-cut), to complete your new restoration by the CEREC device. You can even watch, if you'd like!
After Dr William adds finishing touches to the CEREC restoration, he will immediately bond the restoration on your tooth. Little to no bite adjustment is needed.
Your CEREC restoration is perfectly sized, shaped, and shaded to complement your individual smile for optimal form and function.Your new CEREC restoration is the best restoration currently available for your teeth in terms of restoring your tooth's original strength (aside from solid gold on back teeth).
The entire CEREC restoration process is completed in one visit!
The CEREC machine makes getting cosmetic and restorative dentistry less of a hassle on your busy life and provides you with a strong and durable porcelain restoration that is aesthetically pleasing.
As an option, we also offer award winning Emax technology with CEREC- with same day results. IPS E-max is a layering ceramic that gives beautiful natural opalescence to dental crowns, veneers inlays and onlays. It provides lifelike highly aesthetic results with true to nature light scattering and a balanced relationship between light and chroma. Wear and gloss characteristics are similar to the more traditional feldspathic porcelains, however the strength of E-max enables us to give you a 5 year guarantee.
Other options for CEREC include-
Same day Enamic restorations and  Vitabloc Mark II Reallife feldspathic ceramic for the finest porcelain veneers available (not same day, rather 2-4 weeks). Dr William will advise and guide you as to which material is best for your new CEREC restoration. If you want the best long term least fuss dentistry available- CEREC is for you. However appointments of appropriate length need to be scheduled in advance. This means an initial consult for diagnosis thence a subsequent visit for fitting.
Fees range from $595 to $995 per tooth for inlays and onlays, $1295 to $1695 for porcelain crowns and porcelain veneers, up to $2250 for hand made Vita mark II Reallife porcelain veneers (these are the finest porcelain veneers available). You will receive a fixed price quotation prior to proceeding.
Schedule a consultation with Dr William-Cosmetic Dentist to learn more about the cosmetic dental treatment you require.