How I feel about my veneers!
The Right Choice for Porcelain Veneers
Why did i choose Dr William Zafiropoulos?
Porcelain Veneers
Teeth, bite and jaw problems whether be an adult or child, we deserve to receive the best treatment. These can all be fixed by wearing braces, but how much do braces cost in North Sydney? This is the first question we sometimes ask our dentists.
We can receive different kinds of orthodontic treatment but it all boils down to our budget, most of the time the best treatment usually costs the highest. The type of treatment used is also a factor that could make it costly.
We have traditional braces that involves metal brackets and wires which are glued on each tooth to correct or align your teeth with an elastic band holding the wire. Another type of brace is the ceramic braces, it is just like the traditional type but the material is different using a ceramic transparent type of brace.
Other dentist may still recommend the traditional type as they say that it is the most effective treatment with a cheaper price. If you still want to have the ceramic braces then you have to pay extra for the material used.
We all have to weigh our options to know what the dentist could offer us so we will not be disappointed in to something we chose and not be happy with the results. Braces prices in North Sydney vary to what type will be recommended for your treatment. The dentist will determine your type of treatment and from there they can give you a breakdown of the cost.
Before performing any procedure, you can also contact your health insurance if this type of treatment is covered so you can claim for your benefits.
Braces Cost in Sydney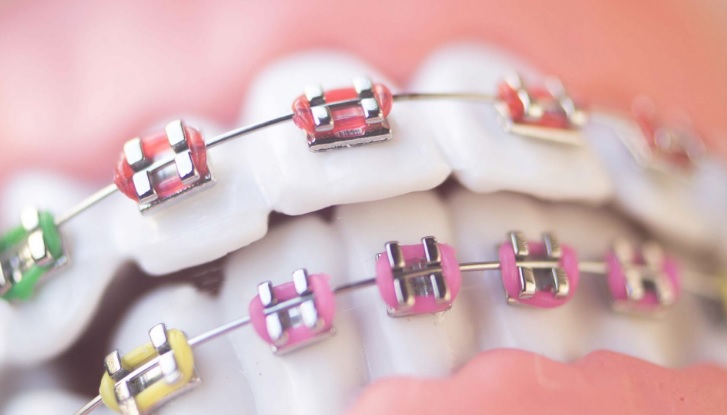 Average cost of braces is from $8,000 to $15,000 depending on the type of brace that will be used for the treatment. It is very expensive which is why looking for an affordable rate that a dental clinic can offer is wise.
Cost of Braces at North Sydney Dentistry
Traditional teeth braces are offered at our other dental branches: Hornsby Dental, North Ryde Dentistry at Macquarie Park and Sydney CBD Dentistry. A traditional type of teeth braces cost at our branches is around $4,500 to $6,000+ and this vary on the complexity of your teeth and the length of your treatment. We also have payment plan available to make it easier.
Dr William is able to use porcelain veneers to effectively correct:
Permanently stained or discoloured teeth
Uneven or crooked teeth
Broken, worn down or chipped teeth
Diastemas (spaces between the teeth)
Misshapen or poorly formed teeth
Single missing teeth- veneers in conjunction with dental bridgework
Porcelain Veneers by Dr William.
Dr William has over the last 25 years, developed his own unique 3D smile visualisation technique. This involves using the latest i-Tero element scanner to help us design a template that can showcase the potential results of porcelain veneers and composite veneers. These scans allow Dr William to design a precision mock up which is made of a mouldable plastic called composite resin. This mock up is placed onto your teeth and is easily removed by Dr William.
Dr William considers the 3D visualisation to be an essential component of the smile design process. This procedure will allow for you, the patient, to deliver valuable input into the smile design process. In essence we collaborate with you the patient to deliver the ultimate results. You will receive photographs of your 3D visualisation via email. You will notice below that this step gives a good indication of how the final results will appear- however the final results are far superior.
In this way Dr William can custom design porcelain veneers and also composite veneers with your input, creating dental veneers that are ideally crafted, to your exact specifications.
Above is shown a 3D Visualisation of proposed veneers case .
Above:
Are the final veneer results.
Below:
Is a completed veneer result. You will notice the lower teeth have not been veneered, rather they have been whitened (using Zoom LED) and tidied using "Odontoplasty" to make the teeth look more your youthful. You will notice how real the veneers appear and how well they match the appearance of the natural lower teeth.
We're committed to understanding exactly what you want to accomplish, which is why our team tailor a cosmetic dentistry treatment plan specifically to your requirements . Porcelain veneers can be crafted with your needs and dental desires in mind, to balance out your smile and create a complete transformation.Dr William has been placing porcelain veneers in Sydney for over 20 years and is highly experienced in creating beautiful smiles.
Our current practice is to usually use the award winning latest E-max technology from Germany which is a layering ceramic that gives a natural opalescence to veneers through true to nature light scattering and a balanced relationship between light and chroma. The wear and gloss characteristics of porcelain veneers are similar to traditional feldspathic veneers; however, the strength of E-max veneers enables us to give you a 10-year guarantee. In select cases  we can still offer the more beautiful feldspathic veneers together with a 10 year guarantee.
The Porcelain Veneer Procedure
At your initial consultation, Dr William – Cosmetic Dentist will assess your smile and take necessary photographs and laser scans of your teeth to enable Dr William to conduct a smile assessment. At your next visit a 3D visualisation is presented to you. We use this service to help you visualise your new smile and show you the outstanding results we can help you achieve. This visit is usually 30 minutes in duration.
After smile design is complete, Dr William will proceed with your "veneer preparation" appointment, where we take the final records of your teeth. These records are then sent to our dental laboratory for the custom fabrication of your porcelain veneers. You leave our clinic with temporary veneers in place on your teeth-these are a copy of your final veneers as proposed.
Your next visit is for "veneer issue", this visit is 2 weeks after your "veneer preparation" visit. It is a visit where we "try in" your porcelain veneers to confirm that you like them, and once you are are satisfied, we bond the porcelain veneers onto your teeth permanently. So when you leave our cosmetic dentistry clinic you will be ready to smile with confidence.
There are further short visits for minor adjustments and for final photographs of your new porcelain veneers and your new smile. After that you will require regular examinations and cleaning as recommended by Dr William.
Fees begin at $1295 per tooth and range up to $1495 per tooth- for our Emax veneers (used in the vast majority of cases), fees depend on the difficulty and time required to achieve a great outcome. In a few limited cases – Dr William may hand craft porcelain veneers individually for you in Vita II Reallife ceramic from Germany- all the beauty of feldspathic porcelain veneers and twice the hardness-fees for these veneers are $1895 per tooth (they are the best, most beautiful veneer product available but not suitable for most patients- Dr William will advise you on your suitabiliity). These provide the most perfect match (mimesis) to your own enamel appearance. The time frame for manufacture is approximately 4 – 6 weeks for Vita II hand made porcelain veneers. The Fees are lower when multiple veneers are crafted for you- you will receive a fixed price quotation prior to proceeding. Normal Emax veneers take 2 weeks for manufacture, however in challenging cases it is not unusual for Dr William to return cases to our laboratory 3 or 4 times- this extends the time frame by a few weeks but provides for excellent results.
Porcelain strength versus beauty (the great dilemma-which to choose!)
Today is a great day to have porcelain veneers placed. That's because dental technology has made some amazing strides in recent years, giving us tools to improve the appearance of your smile that we would have thought impossible just a few short years ago. One of the most amazing advances has been in the development of advanced ceramics that are much, much stronger than those used in the past.
This means that restorations can last much longer than in the past. Dental crowns and veneers can be made entirely of ceramic material and used in places where we could only use metal crowns in the past. And with their new durability, they don't wear down as fast and they maintain stain resistance for much longer. Just how strong are these ceramics? Prepare to be amazed.
Feldspathic Ceramics (porcelains) of the past
The ceramic materials most commonly used for porcelain veneers in the past were feldspathic ceramics. These have the advantage of a high degree of naturalism. Laid down layer by layer, they looked very similar to your natural tooth enamel, which accumulates layer by layer in the body.
However, these ceramics are relatively weak. Traditional feldspathic ceramics had a strength of about 55-65 megapascals (MPa),  Newer formulations of feldspathic porcelain are significantly stronger, up to 140 MPa, 22,000 psi.
Leucite Glass Ceramics – porcelains
The next level of strength in dental ceramics was leucite-reinforced glass ceramics. These were press manufactured, so they didn't have as good an appearance as the feldspathic ceramics. However, they were significantly stronger.
Leucite glass ceramics initially had a strength of about 120 MPa, about 17,400 psi, but later increased to 160 MPa, 23,200. However, the reduced aesthetics of these restorations meant that many dentists weren't impressed with the increased strength. There developed a divide between dentists, with some adopting the new materials while others adopted the new materials.
New, Advanced Ceramics
But soon leucite glass ceramics were left behind by new developments. Lithium disilicate ceramics are much, much stronger than other materials previously employed, with a strength of about 400 MPa, about 58,000 psi. Recently, we've begun employing even stronger ceramics, zirconia, which have a strength that can range from 900 to 1100 MPa, nearly 160,000 psi! That's comparable to the strength of titanium used in dental implants.
Cosmetic Trade offs for Strength.
However, we don't always choose the strongest option available for all your restorations. Just like the transition to leucite glass ceramics, moving up to the new stronger ceramics does come with some drawbacks. The most important is that as materials get stronger, they tend to get more opaque.
This matters because your natural tooth enamel is translucent. It lets light through down to the dentin inside your teeth. That's why tooth trauma can cause your tooth to become discolored. What you're actually seeing is bruising deep inside the tooth. So if we replace your tooth enamel with something too opaque, it won't look natural.
We don't have another option that's as translucent as feldspathic porcelain. But lithium disilicate is actually pretty close. It's a great compromise of translucency and strength. And because it's so strong, it can be made thinner. Most of Dr William's porcelain veneer cases are made with Lithium Disilicate (Emax) porcelain from Germany.
Sometimes, of course, we actually want to conceal your natural teeth (if, for example, they're discolored from trauma), so we'll use more opaque materials. In some cases, we might use a more translucent ceramic on the front, with a more opaque one inside.
And other times, only the strongest ceramics will stand up to the conditions, so we have to deal with the appearance. Fortunately, we can still make them look good. The most perfect match to natural teeth is now achieved with porcelain veneers that are  hand made and finished by Dr William utilising Vita Mark II ceramics-porcelains from Germany. Dr William will advise on your suitability for such veneers.
Information for the more technically minded
VITABLOCS RealLife are industrially manufactured, fine-structure feldspar ceramic blocks used to fabricate anterior crowns with CEREC and inLab MC XL CAD/CAM systems of Sirona Dental Systems GmbH. They were developed especially for the CEREC CAD/CAM system and – compared to other machinable silicate ceramics available on the market – excel by the unique combination of feldspar materials and a fine-particle structure, which lead to high resistance to chipping, protection of the natural tooth substance against abrasion and excellent polishing properties. More than 20 million clinically proven restorations have been produced from VITABLOCS since 1990. Survival rates of 97% for crowns after 5 years, 95.5% after 9 years and 84.4% after 18 years for inlays correspond to the gold standard.
This can also be attributed to the exceptional adhesive bond between ceramic and tooth substance, which is achieved thanks to the excellent etching properties of the VITABLOCS. VITABLOCS TriLuxe have been available in different shade intensity levels since 2003; the advanced VITABLOCS TriLuxe forte variation has been available since 2007. VITABLOCS RealLife have been introduced in 2010. VITABLOCS TriLuxe, TriLuxe forte and RealLife are produced from the proven Mark II ceramic.
By means of a special production procedure, various color saturation levels (chroma) and hence various translucency levels could be combined in one block in addition to the excellent reflective effects and the white fluorescence of the Mark II ceramic. As a result, they differ clearly from the monochromatic VITABLOCS Mark II. VITA has succeeded in reproducing the characteristic color gradients present in a tooth and hence in achieving enhanced integration of the restoration into the residual tooth substance or the residual dentition. This effect is particularly strong in the VITABLOCS RealLife for highly esthetic anterior restorations: due to the spherical curved dentine core, which is surrounded by an enamel coat, their layer structure is almost identical to that of natural anterior teeth. VITABLOCS consist of natural feldspar materials such as potassium feldspar (orthoclase) and Albite. The advantages of natural feldspar materials – compared to other ceramic materials – are the high purity and the large temperature range during melting. The average particle size of the raw materials used is approx. 4 µm. As a result, the microstructure of the sintered VITABLOCS exhibits very fine crystalline portions (not entirely molten Albite, among others), which are very homogeneously embedded in the surrounding glass matrix.
The crystalline portion is less than 20 % by weight. The super fine structure and the industrial sintering process are the reasons for good polishability and excellent enamel-like abrasion properties of restorations made from VITABLOCS Mark II. The fine structure ensures that antagonist teeth are not exposed to harmful "sandpaper" effects. In most clinical situations, the high translucency of the VITABLOCS ensures excellent matching of the shade with the residual teeth so that additional characterization of the shade is not required. VITABLOCS easily fulfill the requirements for good machinability, which becomes obvious both during the CAM milling process, which reduces tool wear, and during reworking by the dentist during which changes of the shape or adjustments can be easily and accurately carried out in situ with diamond milling instruments.